How to take your measurements for a bra
Most of the time, many of us cannot find our bra sizes in stores, and are uncomfortable in our bras.
It is on the basis of this repetitive observation, that when we developed Fitiyoo sewing patterns, we created a table of measurements that can be adaptable according to cup depth and underbust circumference.
Usually, the size of a bra is made up of a number and a letter. At Fitiyoo, we have worked on sizes in XS-S-M-L-XL (and sometimes XXL, depending on the shape).
This method will allow you to adjust the pattern easily.
You'll see, it can be a bit confusing at first, but rest assured it's a simple method.
Before you start :
There is a (nearly) essential tool for all pattern maker / seamstress: a tape measure!!
But, we do know sometimes, many people don't have one at home, and the good news is, that there is another way to take your measurement!
Here is the tips: take a piece of string / a non stretchable tape instead of the tape measure. Place it around your body (as we will see below), and with a pen, mark it at the good measurement. Then, place this string / tape flap, and measure it until the mark you have done.
Are you ready ? Let's go !
---
1. How to take your bra measurements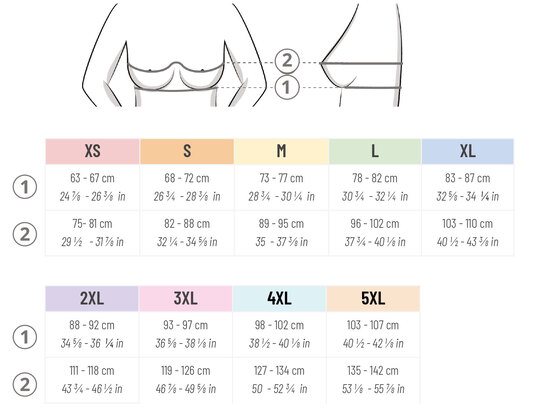 ⓵ To measure your underbust measurement, place your measuring tape around your bust, under your chest, without inflating or retracting the rib cage, and especially without tightening too much.
⓶ To measure your chest circumference, place your tape measure around your chest, going under the armpits and the tips of your breasts without tightening too much. Accompany your tape measure by coming back to the skin in the curve between your two breasts to "close" the measurement on your rib cage.
If the tape measure is detached from your rib cage between the two breasts, the measurement taken will not really match because it will not take into account the total volume of the breast.
---
2. Observe your morpholgy
In addition to your measurements, it is important to observe your morphology:
Depending of the shape of your breasts, you may need to choose a different cup size.
This explains why, in the size correspondences (indicated in the measurement tables), a cup in size M associated with an underbust size M could potentially be suitable for a person in cup A, B, C or D. This is illustrated in the sketch: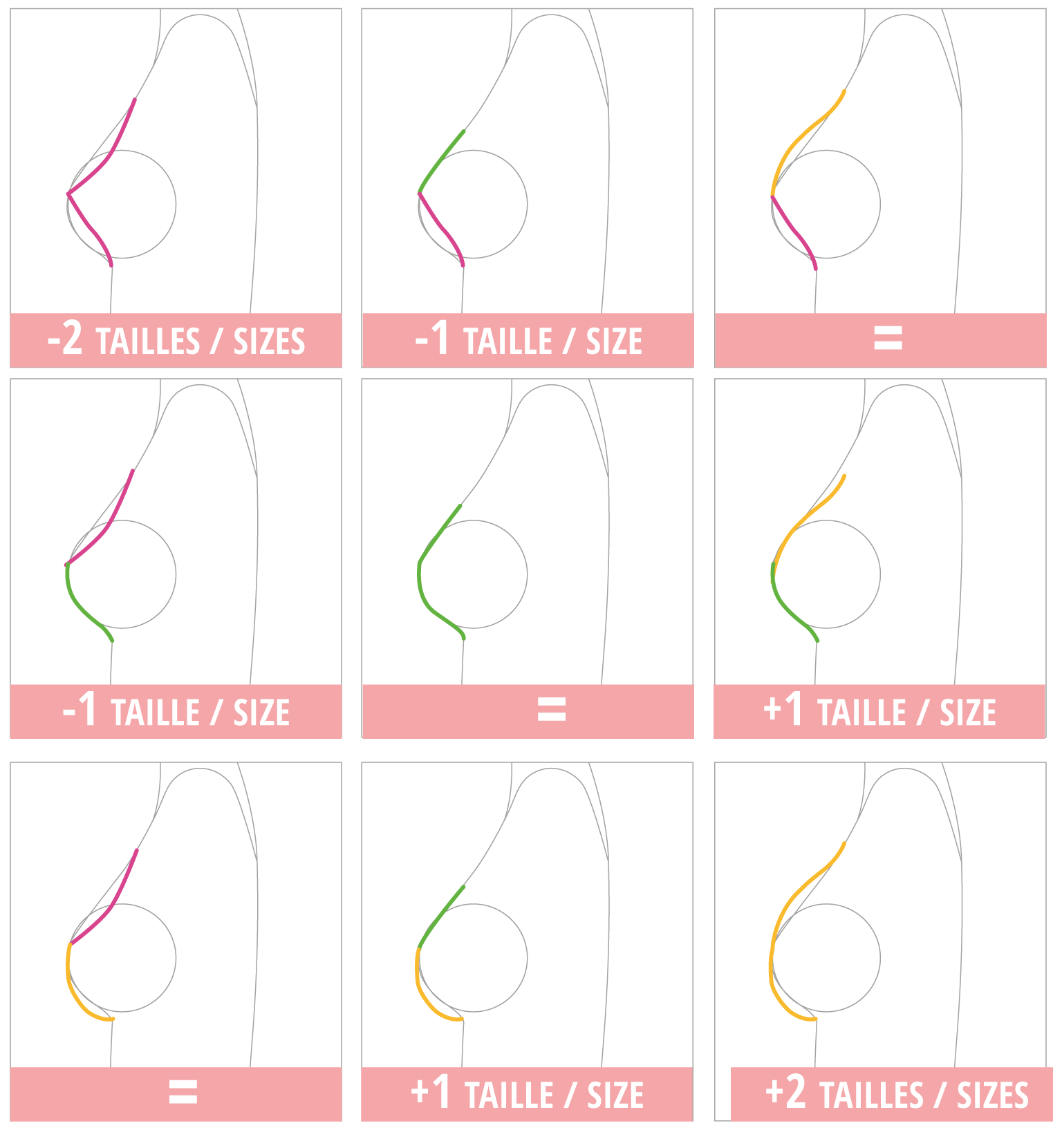 ---
3. How to adjust the pattern made-to-measure ?
It is possible to have a cup size different from the back wing size. This is why, in all our bra patterns, we have created a "Guide & measurements chart".
In this guide, we have detailed all the possible back wing and cup matches, and all the elastic lenghts to sew your 100% personalized bra !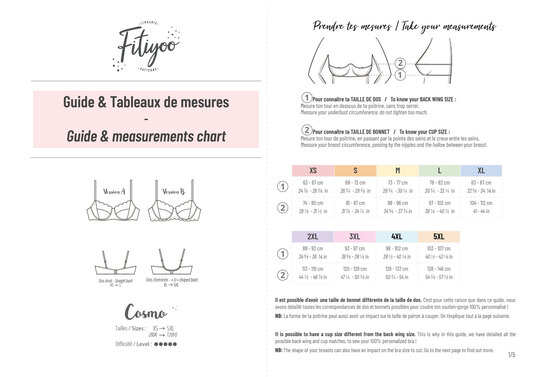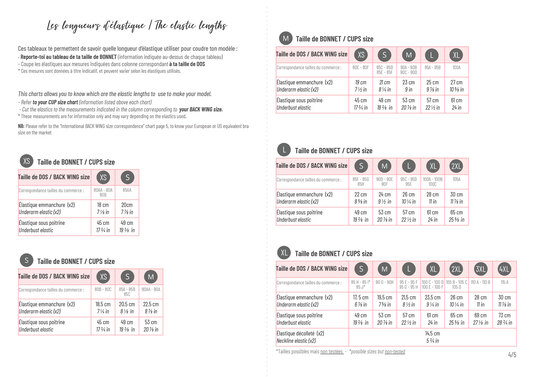 ---
4. Make a first test-fitting model
We strongly advise you to make a test of your model, with the same mechanical characteristics than the fabrics and elastics recommended in the tutorial.
This will allow you to "validate" your size or make some alterations before sewing your final model 🙂
---
5. Sizes correspondence
It can be confusing to talk about sizes S, M, L… and no longer talk about 95C, 90D…It's even more difficult when French, European and US bra sizes are different!
So, to help you a little more, we have detailed each bra size, and its Fitiyoo size correspondence to cut for our sewing patterns. Cool, huh?

And, if you still have any doubts, it's very easy, contact us! We will be happy to help you and make your sewing experience as fun as possible!
You can click on the links below to directly access the cup sizes that interest you by clicking on them 😉:
---
AA cup :

---
A cup :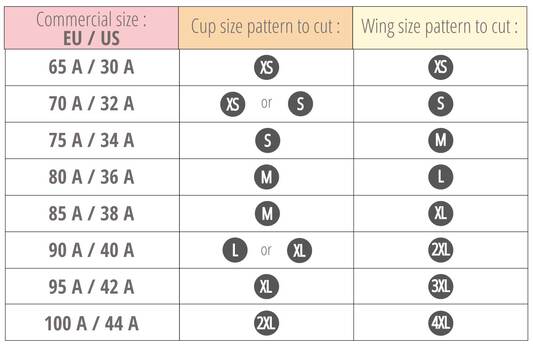 ---
B cup :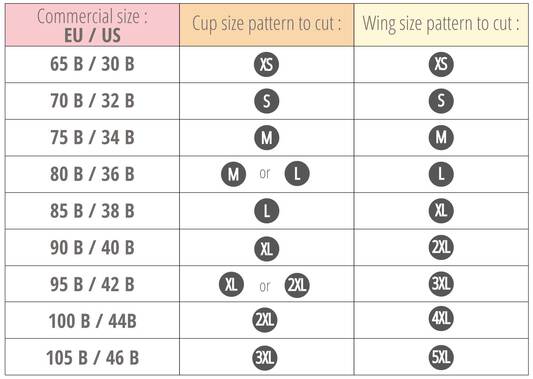 ---
C cup :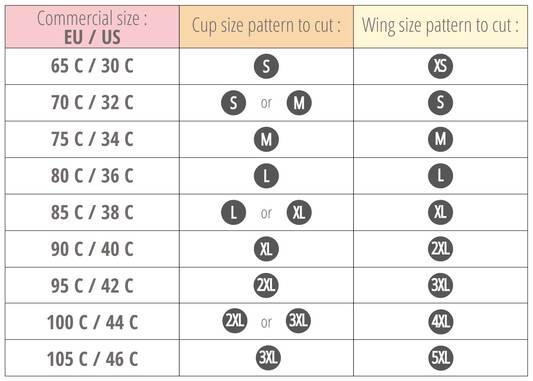 ---
D cup :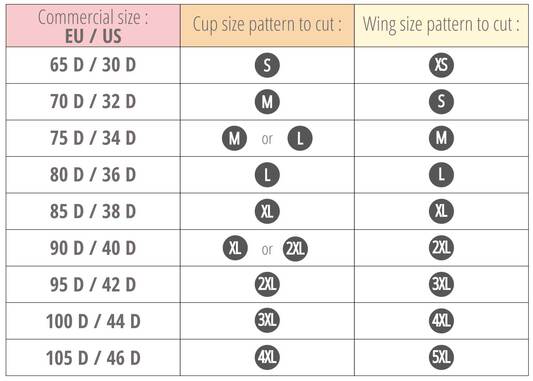 ---
E cup :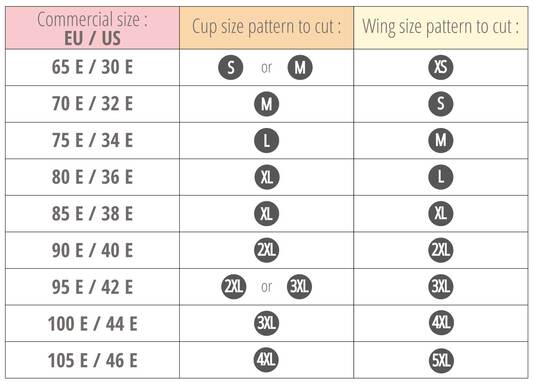 ---
F cup :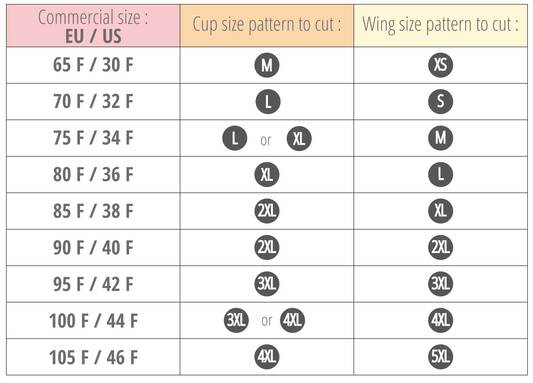 ---
G cup :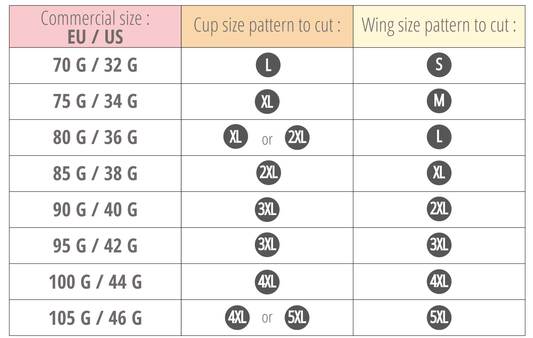 ---
H cup :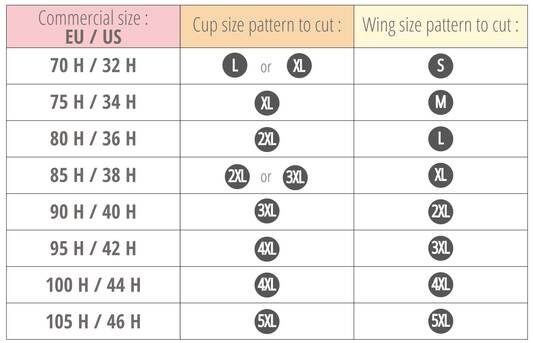 ---
I & J cups :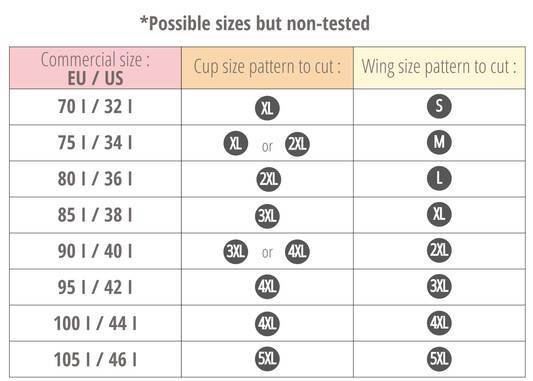 ---
And if you'd like to know how to take measurements for briefs, it's here !
We hope that the informations helped you. If you have doubts, do not hesitate to contact us :