How to add 2XL size on a panty pattern ?
You have a crush on a pantie sewing pattern, but unfortunately the range size is not big enough for you? No worries!There is no reason that you can't find happiness, so we explain how to grade a lingerie bottom in size 2XL (size 50-52) from your sewing pattern in size XL 😉
NB: This article is valid for our pattern models Margarita and Limoncello (Version A and B of each) for instance 🙂
Are you ready ? Let's go !
---
1. Prepare the sewing pattern
Select the size XL from your original pattern.
Here, in red on Margarita briefs pattern :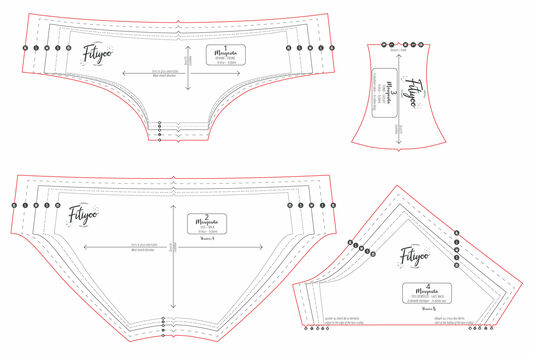 ---
2. Join the two front pieces
Delete the sewing allowance from the seam between the front and the gusset pieces.
For Margarita sewing pattern, the seam allowance are 5 mm (13/64 in).
Join the front and gusset together to form one piece
Move the seam about 5mm upper (13/64 in)

Why?... We often have more belly volume in largest sizes, so the volume of the little tummy tilts the brief backwards.

So, to place the gusset in the correct place once worn, we move a little bit this seam.
Now you know everything! 😉
NB: Those steps (Deleting the seam allowance, and, Alteration of the position of the gusset seam) are valid ONLY for the front part.
---
3. Front piece grading
Draw a straight line at middle front, and extend it on top (Draw "Y" axis, in mathematical terms)
Draw a perpendicular line from the middle front, through the external point of the gusset ("X" axis)
Place a point at 2-3mm from the original point (1/8 in).
This in order to cover a little bit more buttocks.
Draw the new curve of the leg line.
On the middle frontline, place a mark 2cm (3/4in) above the waistline of size XL.

This will be your A point.
Then, from the "side waistline" point, draw a perpendicular line to the middle front line (second "X" axis)
On this line, and from the side waistline point, place a mark at 1.5cm (9/16in).
From this mark, draw a line parallel to the middle front one ( second "Y" axis)
On this line, place a new mark at 2cm above (3/4in).
This will be your B point.
Draw your new waistline, from point A to B.
From B point, draw a parallel line to the side of the size XL.
On this line, place a mark by doing some maths:

XL side seam length + 1cm (3/8in).

You have your C point.
Starting from C point, draw the leg line, joining the new gusset line.
Symmetrize your grading, and draw your front and gusset pieces separately.

Don't forget to put back the seam allowance that you have deleted at first 🙂
---
4. Back piece grading
For the back piece, the process and values to apply are just the same as for front. Easy!
| | |
| --- | --- |
| Margarita briefs Version A | |
| Margarita briefs Version B | |
Now, you just have to check that your lines are matching together (by connecting the front and back at side seam, or the back with the crotch)
---
"Et voilà! " You know how to grade your sewing pattern in size 2XL 🙂
We hope you enjoyed this tutorial and that it inspired you for future creations👙
Do not hesitate to take a look at our Sewing tips and our Blog articles if you want to learn new techniques
And of course, if you have any doubts, don't hesitate to contact us :